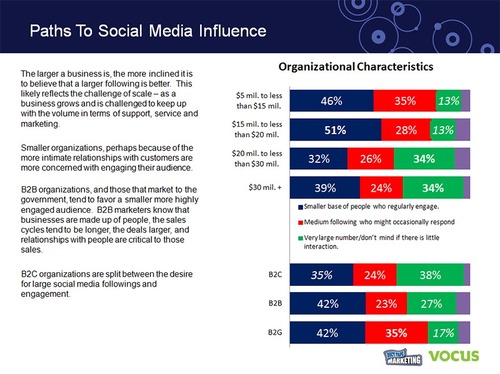 A new survey finds SMBs have a divergent view of social media influence; those after large followings are more likely to find it helpful.
An Industry Study Of SMBs And Social Media or How SMBs Leverage Social Media
Vocus have published a brand new study, with partner John Jantsch of Duct Tape Marketing, "Overall sentiment in this study is right on target and it's a very positive message. What I've been noticing more and more is there's finally this acceptance that social media not only isn't going away, it's an essential element of the marketing mix and the real challenge now is to figure out how to integrate it into the total online and offline marketing presence."
The Challenges SMBs Face?
#Overcoming the perception that social media is free.
#Multiple tool sets for managing social media.
#Addressing customer concerns in a public forum.
These are all themes found in the study.
The Good News?
SMBs are using social media, they are finding it helpful, and they are focused on business outcomes as a means of measuring their progress.
Key Findings Include:
Social media is helpful: 87% of SMBs say social media has been somewhat helpful or helped a great deal; 10% said it had no effect.
Perception of influence varies: 40% of SMBs prefer a smaller but highly engaged audience; 27% would prefer a huge following with little engagement.
Healthy share of marketing efforts: 77% of SMBs indicate social media accounts for 25% or more of their total marketing efforts.
Sharing is common use: The most common use of social media is to share information 91%; only 46% see social media as a place to handle customer service issues.
Doubling up on duties: 73% of SMBs have added social media to the existing duties of a marketing person.
Spending set to rise: 84% of SMBs plan to increase their use of social media at least a little in the future.
The other trend suggested there are growing pains in social media that line up nicely with the size of a business. The smallest firms seemed to get by and benefit from a guerrilla approach, while much larger firms had appointed full time staff and consultants.
The firms in between, those in the $10-20 million range, found social media less helpful as they struggled to integrate it into marketing more formally.
There is a strategy lesson in this data just waiting for consulting firms to exploit.
Path to influence
One of the most fascinating findings of the study was the divergent views of online influence.
For example, 40% of SMBs prefer a smaller but highly engaged audience, while 27% would prefer a huge following with little engagement.
What's important to note is the 27% that prefer a large following are also more likely to report social media has been very helpful to their efforts.
By Vocus. http://bit.ly/QN896C & John Jantsch. http://bit.ly/OOdqIv
Download Path To Influence: An Industry Study Of SMBs And Social Media. http://bit.ly/NtkpJP
See on www.vocus.com