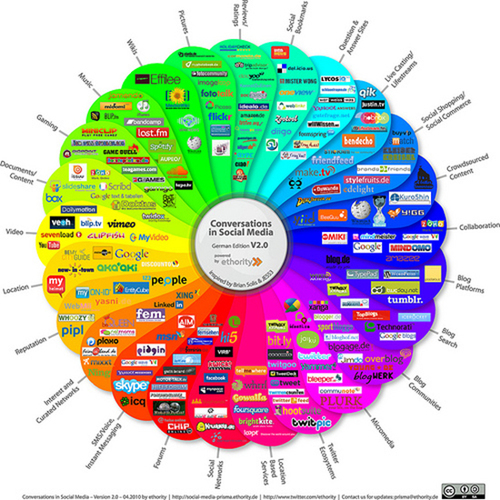 New media has changed the way we interact and communicate.To understand and adapt to these changes, "social media experts" popped up to help organization's evolve their marketing communications accordingly.
#1: Creating Too Many Social Networks
Marketing Pilgrim recently reported that the "the average large company has 178 corporate-owned social media accounts".
Who's going to manage all of these?
Corrective Strategy #1: Invest MORE resources in to LESS tactics
In online marketing, identify the top performing channels and invest more into them.
If you want to grow visitors to your blog, then produce one exceptional blog post each week.
If you want to grow your email list or database, then make that your primary call-to-action (and don't even bother promoting your Twitter or Facebook accounts). If your customer demographic doesn't really match Pinterest, or if your competition is already dominating it, then don't even bother using it.
#2: Relying on Others to Share for You
it doesn't matter how many social media buttons you plaster on your site. You can't sit around and wait for others to do the work for you.
New or smaller organizations can't rely on lucky "word-of-mouth" to significantly impact your bottom line.
Corrective Strategy #2: Drive visitors to specific points of conversion
Your activities should more focused and deliberate
Don't just refer people to your homepage or Facebook Timeline. Direct them from a specific marketing channel to a matching landing page, tab or update.
And increase performance by aligning an appropriate offer that this target segment cares deeply about.
#3: Focusing Too Much on Easy, Ineffective Tactics
Engagement is a vital step in the marketing process
Position yourself so people want to come find you.
But how do you do that?
Corrective Strategy #3: Focus on business development, not just community management
if you want to grow, then you need to focus on business development and create partnerships with other entities.
The goal of online business development is to use these new tools and technologies to create partnerships with important people and organizations.
it takes more time to develop trust and figure out how to help each other properly. So you won't see quick, fast returns.
But the long-term ROI is much higher.
And will contribute more to your overall business growth than a Twitter chat or blog comment ever will
By Brad Smith. http://bit.ly/NHCf9A
See on socialmediatoday.com