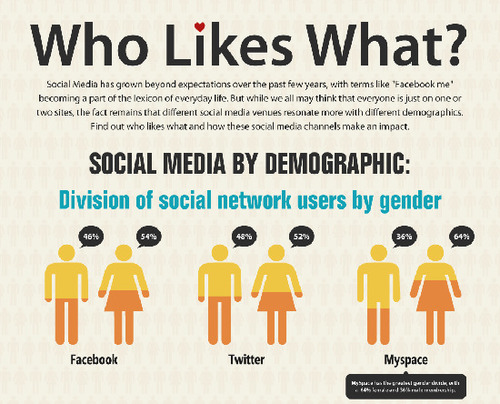 ...
The Three Keys To Social Media:
Engagement
Value
Marketing
Starting with the most important key first…
Engagement
Part of being social is communicating and engaging with people.
If your objective on social media is just to promote your product and avoid any communication, you'll probably have a difficult time achieving that goal. Consumers are on Facebook and Twitter to interact with people and brands. If you're brand isn't engaging with them, you might ask well eliminate your hopes for selling more product through these channels.
Why engagement is key to social media success:
People are using more than just email and phone calls to communicate with brands; many are now tweeting or posting on Facebook pages. If a brand doesn't respond to any inquires on Facebook or Twitter, then it's equivalent to not answering emails and not picking up the phone.
Value
Providing value to users can increase your retweets and shares. Provide valuable links that stay within a niche.
Fans are following you because they either like your brand or like what you've been tweeting / posting. The worst thing you can do is to take a 180 degree turn and start posting off topic subjects. Whatever your industry is, it's important to tweet and post things within "your" topic.
Marketing
Social media is not an advertising platform. However, it can and should be used as a place to occasionally promote your latest offerings and sale.
It is important to find the right balance between your usual tweets and the promotional tweets. You do want to promote your brand; you just don't want to do it too often. You'll want anywhere from 5-10% of your tweets to be promotional.
As an analogy, think of social media like television. If all a network did was broadcast their programming, they wouldn't make any money. But if all they did was broadcast commercials, they wouldn't have any viewers. They need to strike the right balance, and many of them have done that. For most networks, about 30% of their broadcast is advertisements; the other 70% is programming.
When approaching social media the right way, you can build relationships with current and prospective customers, update fans on your business activity, build loyalty and possibly make a sale. The key is to have a balance.
By Zach Bulygo http://bit.ly/N53cU3
See on blog.kissmetrics.com