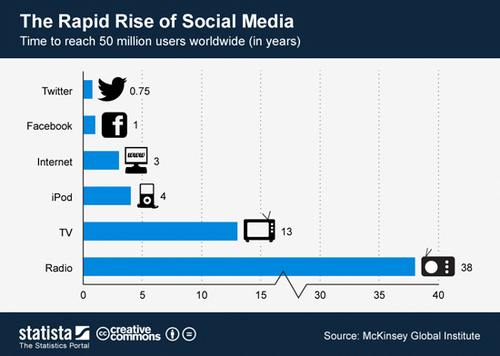 …
Recently discovered in a McKinsey Global Inst Report "The Social Economy: Unlocking Value And Productivity Through Social Technologies" , Statista's Chart 'The Rapid Rise Of Social Media' shows how the pace of technological progress has changed over the past century and the time it took selected technologies and services to reach 50 million users worldwide.
It took the radio 38 years to reach 50 million users worldwide. The next revolution came around a little quicker: 13 years passed until 50 million people enjoyed moving images in their own homes.
With the arrival of the internet the pace of technological adoption really picked up: while it still took internet service providers three years to reach 50 million subscribers, the world wide web dramatically enlarged the potential audience for everyone with an innovative product or service.
Facebook, now on track to reach 1 billion users, needed just one year to reach 50 million users and Twitter was even quicker to reach that milestone.
By Statista http://bit.ly/OrtrDi
Download the Report The Social Economy: Unlocking Value And Productivity Through Social Technologies [PDF] http://bit.ly/MlE5Qq
See on www.statista.com