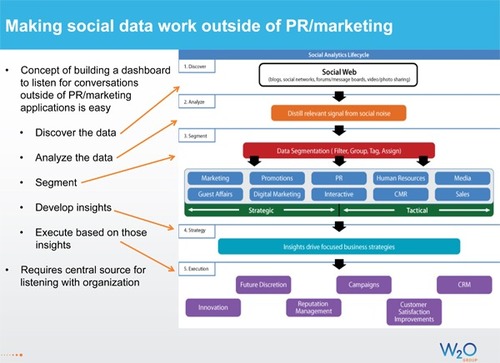 I do not think I have seen anyone run any kind of correlation between the explosion of social media and the subsequent explosion of social media listening…
How do you turn your existing listening program into something that offers much more value to your organization?
1.       Think toolbox, not tool – There is not a data capture tool on the market today that will serve all of your needs. Listening tools are powerful, to be sure, but they do not capture everything. Think about what combination of tools — customer service, web analytics, search analytics, conversation analytics — you need to be successful.
2.       Develop a social intelligence supply chain – Using the toolbox above, how do you route and display information within the organization? This is a critical step that is most often overlooked.
3.       Institutionalize standard metrics and models – Presenting the same metrics and using the same approach to data gathering is essential to delivering actionable insights and ensuring overall credibility.
4.       Determine the right reporting cadence – There are different models for different audiences. For example, if you are presenting to an executive audience then it makes the most sense to roll up data every quarter. If you are using the data for real-time content, though, it may make more sense to present findings every week.
5.       Using analysts to hand code data – While the tools are becoming more sophisticated, nothing yet replaces the analyst who understands the business and the tools.
6.       Protocols for crises – If you are familiar with your issues, know what drives share of conversation, know who the influencers are, know who you would talk to in crisis, know the top search words people use then you are in good shape. Do you know all of those?
7.       Build a team who understands the business – This goes hand-in-hand with #5, but having analysts who understand the tools and the business is absolutely essential. It's the only way you will develop actionable insights.
These are the primary building blocks to building an effective social media listening program at your organization.
See more in Chuck's Presentation "Turning Listening Into An Organizational Advantage" [PDF]

By Chuck Hemann