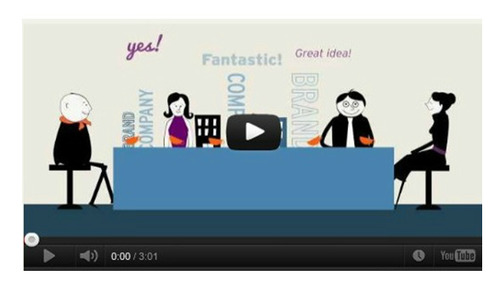 Facebook, Pinterest, Twitter, LinkedIn—which social media network is the most important way for your small business to engage with consumers?
The answer may be "None of the above" .
A new study on consumer buying behavior, conducted by Incyte and released by GetSatisfaction, found that when it comes to influencing consumer buying behavior, a company's website still matters more than its presence on social media.
The Study's authors suggest that consumers visit social networks for personal connections, but when researching products, they would rather use a branded customer community moderated by the brand in question.
The study also found that brand advertisements on Facebook or Twitter had significantly less value in influencing consumers' purchases than did feedback from other consumers on brand websites. "Consumers are clearly saying that 
a primary value proposition of a customer community is that it allows them to quickly access information that is relevant and accurate – and they prefer it when that information is provided by other people like them," said Dale Sakai [ Incyte ]'
While some companies attempt to give influential bloggers or other social media users free product to sway their opinions, the report found this tactic is often misguided.
Instead, Incyte recommends, Companies should turn to their existing customers to create more authentic "Brand Advocates."
82+% of consumers said they'd be happy to be brand advocates after being part of a branded customer community. What's more, half of them would do so even without an incentive of any kind.
In a recent Forbes article by Ed Keller, co-author of both "The Influentials" and "The Face-to-Face Book," Keller points that "[the study] helps explain some of the challenges that Facebook faces when it comes to brand marketers, and is a timely and helpful reminder to those in a rush to engage socially with consumers, it is a mistake to focus efforts on online social networks at the expense of other digital— as well as non digital—assets."
Overall, there is a disconnect between how consumers want to engage with brands online and what brands are actually doing.
"Consumers don't just want to be broadcasted to. They want to engage with each other and companies about products and services they care about," said Wendy Lea, [Get Satisfaction].
"Social media strategy needs to include authentic customer engagement driven by a branded customer community."
Keller sums up a major takeaway from the findings nicely—the company website is still the number 1 place consumers go to connect with brands and research products or services. People do love social networks, but they love them for connecting their personal relationships, not necessarily for connecting with brands.
When you place a branded community on your website, on product pages, or support pages, you're giving your customers the ability to ask questions, share feedback, praise, and product ideas, all in one easy to use place on your website.
Your company will not drive revenue and customer acquisition by chasing likes, tweets, and pins. But by bringing those eyes to your customer community and giving them a chance to discuss, research, and engage with customers who are already using your products, you can convert them into loyal customers who turn to you (and not your competition) for their shopping needs.
Want to find out more? Download the full report -" To Monetize Open Social Networks Invite Customers To Be More Than Just Friends" here