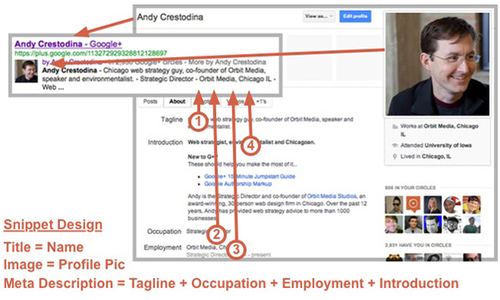 Google yourself. See that? It's your personal brand. Unless you love everything about each listing on the first page, us this 14-point personal branding SEO checklist.
There are two goals in personal SEO:
Dominate the entire first page of Google (branding)
Push negative or embarrassing search results off of page one (reputation management)
Here's a checklist of ways to make that happen:
#1. Design your snippet: Google+
Optimize the one profile that you know Google is indexing: your G+ profile. When you fill out your profile, you're actually creating the snippet in Google.
The snippet text (meta description) is a combination of four fields:
Tagline; Occupation; Employment; Introduction.
a. None of those four fields include your location, so if you want to be relevant in your local area, add your city or town to your employment field
b. Use keywords relevant to your skills and personal brand
#2. Make your Resume search-friendly: LinkedIn
LinkedIn is ubiquitous in search results. Here's how to polish this part of your personal SEO:
a. "Location," "Position," and "Company" appear in Google snippets. Make sure they're complete
b. Customize your public profile URL. Pick a URL that includes your name
c. Make sure your entire profile is visible to the public
d. Make LinkedIn as complete as possible
#3. It's all about you: Your profile on your site
a. Make this your masterpiece. Fine tune design, tweak on-page SEO, and use your best writing.
b. Make sure your profile has its own page
c. Use your name in the URL if possible
d. Use your name in the beginning of the title if possible
e. Every profile should link to this page
f. This page should link only to current profiles and networks where you are active (these links can be "nofollow" and target= "_blank")
g. Link to your Google+ profile using the "rel=me" tag
h. Watch Analytics for this page to monitor search performance and referring sites
#4. Signed by the Author: Google Authorship
It's time to start using Google Authorship Markup.
On the following sites ensure your "Profile" has the relevant links, picture, short bio, meta description
#5. Twitter
#6. Facebook
#7. Vimeo
#8. Tumblr
#9. Quora
#10. About.me
#11. Delicious
#12. Flickr
#13. SlideShare
#14. YouTube