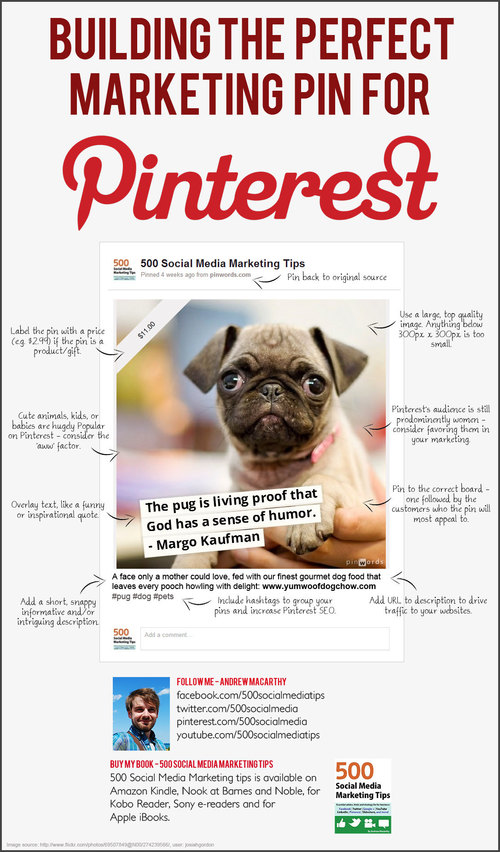 Pinterest 's extraordinary growth has been without comparison.
For business, it could have a profound impact on your reach, this depends on you know what you're doing when it comes to creating perfect marketing pins.
The skills and knowledge necessary when creating perfect marketing pins aren't always clear and easy to learn. The service is still too young to yield any good research about what really is the best way to go about creating these business pins and how to promote them.
Andrew MacCarthy has created this Infographic Building The Perfect Marketing Pin For Pinterest, essential tips on creating the perfect marketing pin, to help you get the most out of your "Pins".
Here are ten tips on how you can optimize your pins for your business when you are creating perfect Pinterest pins. Make sure you also have an interesting and engaging tag text for your pins.
 Ideally, you want people to engage so other people know there is a value in your pin, which might encourage comments.
If your pins aren't intriguing they won't make much of an impact at all.
This is the true sauce behind creating perfect marketing business pins.
Making an impact is what you should be aiming for. Use pictures that draw the user in.
 Pinterest has so much potential, increasing further influence when you use it.
Creating perfect marketing business pins is just half of the fun. Receiving feedback and response to your pins is not only fun but inspiring as well. Don't miss out on the growth of Pinterest. As their features evolve, there will be even greater possibilities.