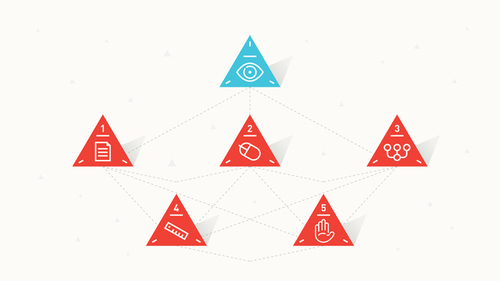 We have entered an age where visual communication is essential for any company. The need to tell complex stories quickly, effectively, and in a way that engages people is not just prevalent, it is universal.
Brands that learn and utilize visual communication as a tool to distribute their message and inspire audiences will run circles around those who struggle to find their voice in the medium.
Infographics also present an incredible opportunity to strengthen your existing branding efforts by developing a unique graphic style to be implemented throughout the company.
How do you get started in building a visual language?
Ross Crooks presents five key considerations to ensure your approach is holistic and successful:
Identify Applications
These could include printed pieces, static interactive Infographics on the web, apps on a mobile device, motion graphics, animations, or video.
Identify the Tools Being Used
The style guide should be built so that the software with the least capability is still able to adhere to the style developed.
Map Your Needs
If you need to visualize geographic data, create standardized map templates for various regions, which can be used throughout the organization.
Develop Specifications
Look at the areas necessary to define in the style guide. For Example:
a. Dimensions
b. Typography
c. Iconography or illustration style
d. Interactive elements
e. Stylistic elements such as color, patterns, line width, etc.
Distribution and Teaching
Ensure that there is a formal education process upon the completion of new guidelines.
Ideally, once empowered with guidelines and tools, employees will be more likely to opt for visual communication methods to get their message out.
By Ross Crooks. http://bit.ly/PlAWev
See on columnfivemedia.com