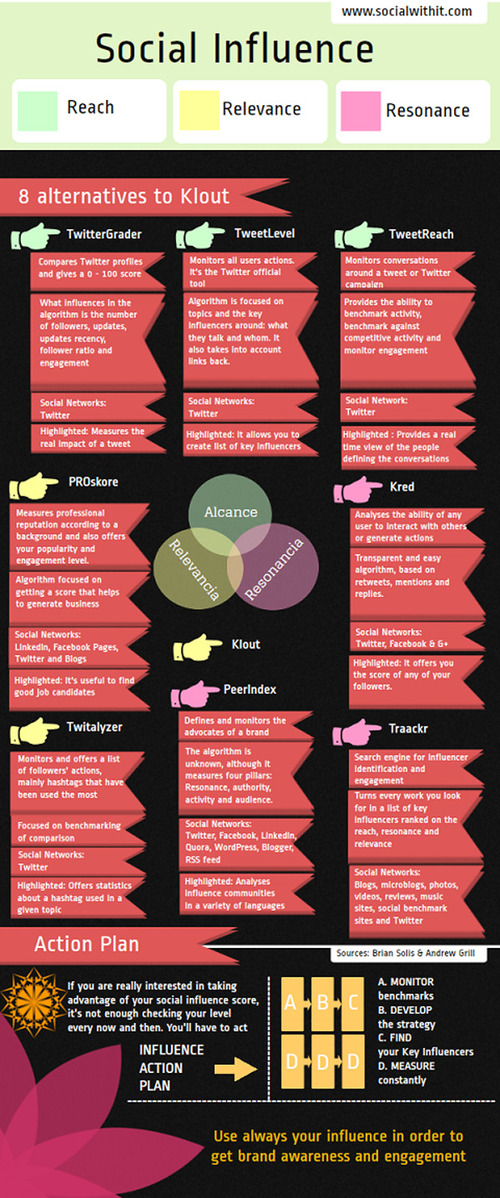 The creation and quick spread of online social media have modified that meaning, or, maybe, there's a totally new definition under the nomenclature online social influence. Are we trying to persuade via social media?
M easure its influence on social networks is not easy.
Klout is now the market leader despite his detractors who qualify Klout social gaming around the influence, rather than a true reference tool.
OSI [Online/Digital Social Influence] is a matter of prestige more than persuasion.
Once you have reached the desired level, you will influence the online actions of others. It's the "ability to inspire action".
Andrew Grill, Kred CEO considers more important what happens after we get to that level.
He gives some tips to boost your online influence via social media:
Firstly, find out where you are an influencer [which area of expertise] and then focus on that area. Social media, for example, is too wide.
Define and contact your advocates, those followers that you [or your brand] influence the most and use them to get more awareness.
Develop an Influence Action Plan
What follows are the steps to develop a successful action plan according to Brian Solis :
Track performances against current benchmarks that capture existing sentiments, behaviours and awareness.
Define who your target audience is.
Develop the strategy. You'll have to take into account both your community and all your community's followers. Find out what does matter to them and use that info in your daily content.
Determine who are your most influential followers and use them in order to improve your social media outreach.
Launch the outreach campaign, remembering that key influencers' behaviours are totally unexpected. That is the reason the next step is crucial.
Measure constantly. Monitor all that you do every day and modify the strategy when needed.
8 alternatives to Klout
Klout is the most used tool… And also the most criticized. It's very common that we all want to get the highest level, and nobody wants to see the score going down, especially when we think it should be going up.
It is a very social tool. You can socialise with your contacts and there's also the possibility to share your score on social networks. You are also allowed to know what Klout style are your contacts, know who are your influencers and the ones you influence the most.
However, the algorithm they use to calculate the rate is totally unknown.
There's no transparency and  is mainly focused on two social networks; Twitter and most of all, Facebook.
Social With It shows you other 8 similar tools – TwitterGrader, TweetLevel, TweetReach, PROskore, Kred, PerrIndex, and Twitalyser Traakr – visually comparing the principal data amongst them. All OSI tools are organized according to three concepts: reach, relevance and resonance [triple R]
Do you want to know some other details on these and other tools?
Check this amazing study by Brian Solis and Altimeter.