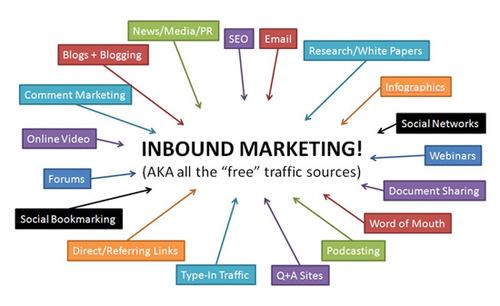 Are you up against competition that has deep pockets and can outspend you in traditional advertising methods? Click here to find out how you can bring traffic and leads for next to nothing…
Traditional outbound marketing can end up being a poor investment. You have to rely on channels like cold-calling, paid branding and print advertising.
All of those channels can get really expensive really fast.
Inbound marketing, on other hand, will help you capture attention, generate leads, convert customers and keep those customers…all at a lower cost to you than your competition.
Let's look at a few steps to get you there.
Step #1 – Ignore Sales And Focus On Marketing
It's much better to create a marketing strategy that feeds that team qualified, warm leads…instead of cold, and possibly dead leads.
Instead, focus your efforts on building a marketing team with excellent marketing skills.
For example:
Hire brilliant marketers –
Focus on tightly targeted markets –
Close qualified leads –
It comes down to the answer of these three questions:
Do they have the authority to buy?
Do they have the budget to buy?
When do they plan on buying?
A Leads (ready to buy in 3 months or less), some B leads (is ready to buy in three to twelve months). C leads marketing can keep.
Step #2. Focus On Multiple Inbound Channels
The key behind an effective inbound marketing strategy is to create and deliver valuable content.
Here is a template to use for your inbound marketing strategy:
Blog – Your team should focus on publishing quality content two to five times a week. Quality means search-engine friendly, highly-researched and compelling.
Engage in comment marketing – Someone on your team should focus on visiting sites within your industry to interact with bloggers and readers in the comment section.
Publish guest blog posts – Guest blogging is one of the fastest ways to grow your subscriber base.
Produce online video – Video can help improve your search rankings, raise the amount of time people stay on your page and even boost conversion rates on your landings pages.
Interact in the social bookmarking world – While this isn't one of the most popular ways to generate leads, it is definitely one you shouldn't ignore.
Establish authority on Q+A sites – Quora has really established itself as a place for professional exchange of ideas.
Design brilliant Infographics – Visual.ly, is a one-stop shop for Infographic creation, has this inbound marketing technique nailed.
Build a social media audience on the big four – Focus your audience-building efforts on Facebook, LinkedIn, Twitter and Google+.
If your target audience is on Pinterest or Tumblr, then use those sites as well. Keep in mind—don't spread yourself too thin. Pick two or three that you can maximize your exposure.
Implement a solid startup SEO plan – If you run a startup, then you are in an excellent position to take advantage of everything that SEO has to offer.
All of the efforts behind a good inbound marketing plan won't cost you a dime except for the sweat equity you invest. This means you can compete with bigger competition that is better funded.
For each of the inbound marketing efforts above you'll want to break them down into steps.
Step #3. Dominate LinkedIn Groups
While the big three social media sites get all the attention, LinkedIn is quietly becoming a powerhouse. With over 150 million users, you have a lot of opportunity to generate some serious attention.
The specific strategy I want to focus on is with Groups. Contribute and engage with LinkedIn Groups with this quick 5-step strategy and you'll generate some high-quality leads.
Find the best Group to join – LinkedIn has lots of groups that are divided into categories. Find three to five small groups that most accurately represent your target demographic.
Target popular discussions – You'll waste your time if you simply try to join every discussion. Instead, search for the most popular discussions—these will have the most visibility.
Start a new discussion – Before you start your own discussion, make sure you spend some time in other discussions. Get a feel for the culture of the group and find out what is important to them.
Follow up – It's not easy keeping track of discussions, so you'll have to be proactively visit your groups and monitor the discussions—especially the ones you started.
Start a Group – This is a perfect way to establish your authority. But you have to be strategic here. Make this group center on your brand and how your message is different than the competition. Brands That Defy Gravity is a great example of a group that stands out in a crowded market.
Step #4. Never Attend A Trade Show Again
Trade shows can be very expensive.
There is a more effective—and cheaper—way to leverage the power of trade shows.
Here's what you could do also:
Blog about the main points of each speaker –
Summarize the conference –
Inbound marketing is truly a gift to startups who are strapped for cash. Depending upon how big your team is, you will all probably end up working like a slave to get it all done…but it will be worth the effort.
By Neil Patel http://bit.ly/N2Rhnn
See on blog.kissmetrics.com