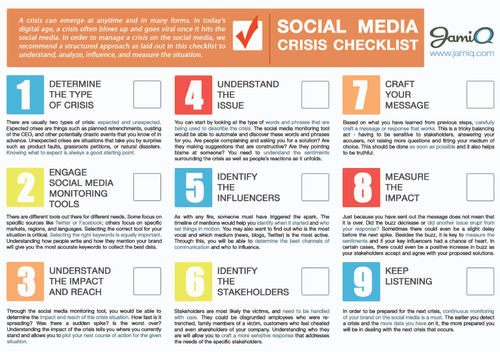 Social media crises situations are like a blow beneath the belt – it may seem small and trivial at first, but the aftereffects are usually deceptively painful. And when crises happen, most people and companies are often at a loss about what to do.
Based Jamiq's experience managing and monitoring social media crises for clients across Asia, they have come up with a simple Social Media Crisis Checklist for brands to better manage their crisis situations.
This checklist is designed especially for PR users, but it will fit well with anyone managing a crisis online.
The next time you find yourself or your client in a crisis, don't panic, just follow these steps one at a time.
For printing and distribution, Download Here: http://bit.ly/N9g2Bt

By JamiQ — http://bit.ly/N7UBAA
See on blog.jamiq.com