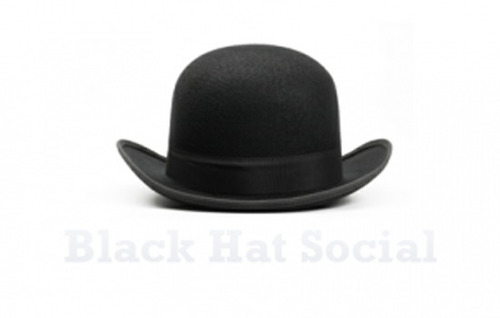 Pssst, wanna know a secret?…
"Black hat" techniques for using social media are thriving, much to the chagrin of many social media purists.
It was inevitable for this to happen. For years, the concept of black hat has been tied to the SEO trade.
Those who profess to practice SEO honorably decry these practices and deny that they use them. Yet plenty of upstanding SEOs get smoked by others who don't agree to play by the unwritten "rules."
What Exactly is Black Hat Social Media?
"Any techniques that are essentially designed to game the system."
This typically means going against the terms of service or accepted "best practices" of a network. With Facebook for example, running contests directly on your page, without using an app, is against their terms of service. (You do know this—right? wink-wink)
Black hat practices can also incorporate automation, taking the person out of the seemingly essential equation of personal, one-to-one (or one-to-many) communications that one expects with true social media. Like automated DMs for new followers on Twitter.
Examples Of Black Hat Social Media
1. Buying fans on Facebook, Twitter and other networks
2. Setting up a personal profile for a company on Facebook instead of a Page
3. Targeting fans of your competitors with ads
4. Automated following and replies
By Brandon Uttley http://bit.ly/N52rrw
See on socialfresh.com