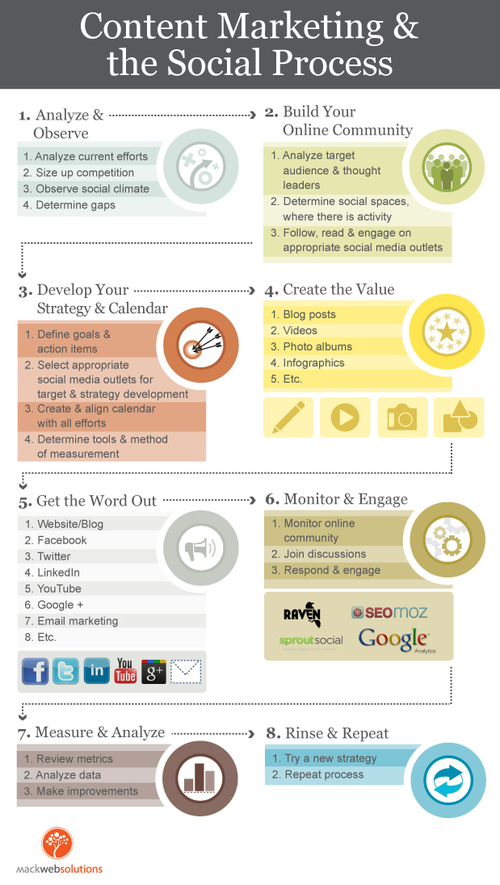 Much time and effort goes into the actual work of raising web visibility–it's an ongoing process that will require you to generate content and build relationships.
Defining Terms
In general, we understand that content marketing is usually considered different from social media marketing. Content marketing is about drawing attention to the content on your website; social media marketing is about encouraging engagement on the various social media forums out there in cyberspace.
We tend to blur that line between content and social media marketing.
Every strategy developed includes both. Valuable content–blog posts, Infographics, videos, whatever content type aligns with you or your client's goals–forms the foundation of any web marketing effort.
Once you've got the value, utilize social media to get the word out, engage, build relationships, and ultimately brand awareness. See the blurring?
The label matters less than having a deliberate and intentional strategy to provide something of value on an ongoing basis, because content and social media marketing ultimately work together to build:
Value in your company or organization (or on behalf of your client)
A personality and brand that people know and trust
Sustainable relationships
A supportive online community
Domain authority and desired rankings
The Solution
To that end Mack Web Solutions developed an approach that clearly explains and delineates the process, step-by-step. It spells out who does what and when and how and just, in general, makes the whole thing both more manageable and more palatable to our hesitant clients.
The Mack Web Approach – Organic web marketing process includes three stages:
Stage One
SEO & Local Search (research & implementation)
Stage Two
Link Building & Social Media Strategies (research & development)
Stage Three
Ongoing Implementation & Measurement (which never, ever ends)
This graphic depicts Stages Two and Three.
By Mackenzie Fogelson — http://bit.ly/MTd6JH
See on www.seomoz.org