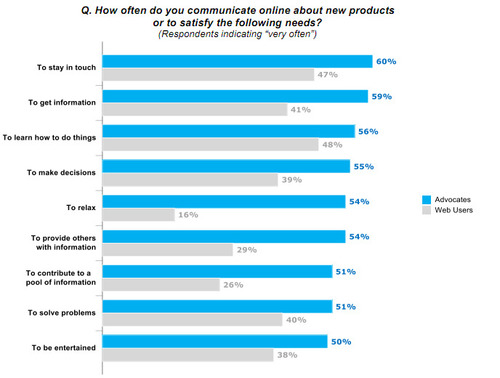 Social Media is now a major part of most businesses' marketing plans.
It drives so much traffic, builds brand awareness and even creates sales.
An often neglected side of social media is that it is a great way to build promoters and brand advocates.
Think about finding, encouraging and rewarding about 20 or more brand advocates for your business is like hiring a small army of PR people for pennies on the dollar.
It could truly be the difference between obscurity and fame for you.
Neil Patel shows you the steps you need to take in order to create and cultivate these brand advocates.
Step #1: Identify potential brand advocates
The secret is to key in on who is sharing your content. You can do this by using some of these tools:
Step #2: Gaining rapport with your brand advocates
Once you've identified a dozen or so key people who are promoting your stuff, it's now time to turn up the heat and keep them on board.
Here are a few ideas to keeping these promoters engaged:
Comment
Reply
Share
Email
Promoter of the week
Step #3: Find out what motivates them
Here's a surprising statistic for you: brand advocates are 83% more likely to share information than your average user. In fact, more than half of these brand advocates look at sharing as relaxation.
But if you look at some of the other response on that chart you'll see other things that motivate them. For example:
Entertained
Solve problems
Get information
Learn how to do things
Step #4: Make it easy to share your content
Your next step is to make that great content easy to share.
Making social sharing buttons very visible ­
Ask brand advocates to share content
Use Tribber This site gathers like minded bloggers together in a tribe, providing these benefits:
Automatic social sharing

Increase reach of your content

More high-quality visits to your site

Step #5: Give your brand advocates freedom
Never make your brand advocates feel like they are forced to praise you. Give them plenty of freedom to talk about you and your brand any way they like. In fact, encourage them to be brutal, and invite tough feedback.
Giving advocates that sort of freedom will only encourage them even more.
Here's how to support that kind of freedom:
By Neil Patel – http://bit.ly/weu7s3
See on www.quicksprout.com