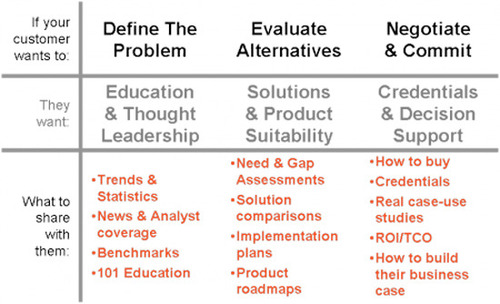 Understanding the decision stages B2B customers go through as they decide to buy from you and developing the content they are looking for at each stage is an essential B2B Marketing best practice.
Creating and sharing the information your customers want at each stage of their decision process will dramatically improve the findability, relevance, and ultimately the value of your content and increase qualified traffic, visitor engagement, and conversions.
Key Decision Stages by Information Need
1. Defining the problem: education and thought leadership
#They are casting a wide net and may or may not have an idea what the solution will be
#The information seeking has a broad focus using more generic and high-level search terms and keywords
#They may be seeing assistance with definition, scope, and internal buy-in

2. Evaluate alternatives: solutions & product suitability
#They are searching for available options that will meet their requirements
#Keywords and search terms will be more specific and will start to reflect solution alternatives or categories
#Their goal is developing a short-list of viable alternatives

3. Negotiate & commit: credentials and decision support
#They have a solid understanding of how each alternative measures up and the decision maker is trying to get comfortable with committing to one of the decision alternatives
#Keywords and search terms will be much more specific and will be focused on specific solutions
#They are managing questions and building a case with various stakeholders
At each stage of the decision process you need to target your content to address differences in what your customer wants to know
Then map specific differences in what each segment wants to know.
This chart by Brainrider – may be used to simply map decision stages and content opportunities against existing, repurposed, and curated content.
See on blog.brainrider.com