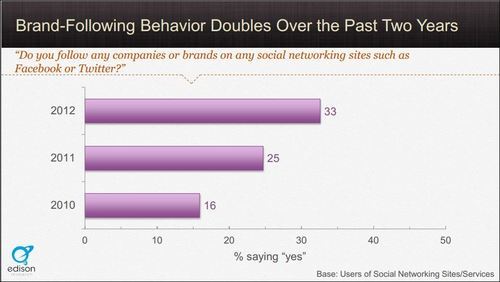 Mark Schaefer together with co-collaborators – Jay Baer, Jason Falls and Tom Webster of Edison Research – reveal some interesting facts from the new Social Habit Project / Study
Here are eight fantastic facts from the Social Habit's latest study:
1. 7% of Americans have never heard of Facebook
How can seven out of 100 people you see each day have no clue about Facebook? This is one mind-blowing fact.
2. 80% of Americans between the ages of 18-24 use this one product
Can you name any other branded product in the world that is used by 80% of the young people in the United States?
3. Facebook acquired one new user in the U.S. every second for three years
Check out this growth rate between 2009 and 2012. Over three years, Facebook acquired about 3,805 new users per hour. That equates to almost exactly one new user per second — and that's just in the U.S.
4. 74 million Americans are passive aggressive
If these numbers are to believed — and they are — 74 million Americans are at least somewhat concerned about privacy issues on Facebook. That is one significant gaggle of people.
5. Look to your left. Look to your right.
One of you is a social media stalker.So how many social media users are active on the network but NEVER post? If you guessed about one-third it's only because you looked at this graph first.
6. Foursquare still sucks
"Boresquare" is not delivering enough value to its users.
7. Companies are rapidly figuring out social media
Brands are delivering more value so that people WANT to follow them. It's pretty amazing validation that the money being spent on social media is at least having some impact on customer connections.
8. Content marketing is for real
Here's another good news chart for marketers. A significant number of people are coming to our social media sites because they like the content, not just because they are getting a coupon.
See the whole report: The Social Habit.– http://bit.ly/NgUlfS [PDF]
By Mark Schaefer – http://bit.ly/xiU5Qu
See on www.business2community.com