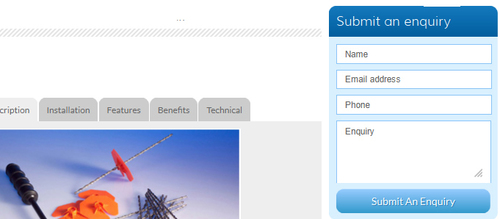 Creating and setting goals and call to actions on your B2B website and using Google Analytics to measure the performance of your website.
In order to measure the effectiveness of the website you will need to:
a) Create goals on your site and
b) Set each one up in Google Analytics
Goals are specific actions which you want visitors to take or result in the exchange of contact information. For example a goal could be the number of visitors who submit an enquiry from your website.
So what can be classed as 'goals' on your B2B website?
Goals can vary depending on each person you ask within the business and what matters to them individually.
Here are 10 goals to measure on your B2B website: http://bit.ly/Kl7U1H
#1. Contact us forms
Typically on you 'Contact Page'
#2. Quick enquiry forms
Put short enquiry forms on every page of a B2B website as each page is a landing page and you don't really want visitors to work hard in order to submit an enquiry.
#3. Call back requests
A call back request is similar to the quick enquiry form but only requires a name and phone number
#4. Registration forms
Offering prospects additional information which is of value is often placed behind registration forms – i.e. 'offering something which is of value'.
#5. PDF Downloads
By measuring downloads of documents on your website you will see various peaks and troughs throughout the year depending on external marketing activities and the impact of campaigns.
#6. Product video views
Using event tracking in Google Analytics you can identify how many visitors have played a video on your website.
#7. Podcast downloads
Measuring the quantity of downloads over a period of time can tell you how many people are tuning into your content via audio.
#8. Specific text links
Using event tracking in Google Analytics you can see how many times a particular link has been clicked. This is useful if you want to measure how many times visitors have clicked on an important link (outbound links) to a separate domain or external site.
#9. Trial/Demo requests
Offering visitors the opportunity to trial some software or offering a demonstration of a product is key to pushing prospects forward from the researching phase of their purchasing cycle
#10. Webinar/Event signups
Webinars are particularly helpful if building a brand or reinforcing certain brand values are the objective of your website.
Creating goals around your marketing strategy
Some of you may or may not have these goals on your website already, but by measuring each relevant one in Google Analytics using various methods such as 'destination pages' and 'events' you can quickly create various hypothesis to test and try and find the answers to.
"Do more visitors…."
"What percentage of non-branded search traffic sign up to….."
"How many returning visitors….." and so on.
Analyse your conversion report in Google Analytics and segment by branded and non-branded search traffic or campaign traffic or returning visitors only to get a true assessment of all the goals completed by each channel and type of visitor.
Remember to ask the right questions before you dig in to your analytics
All of these questions should be based around your own marketing strategy and objectives so that you can then quantify exactly how well your website is performing and how much it contributes to the business and sales pipeline.
See on www.smartinsights.com