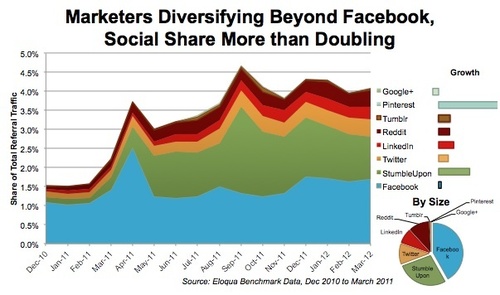 Eloqua breaks down which social media marketing channels are delivering the most traffic.
Socially referred traffic has more than doubled since Q1 2011.
Although Facebook continues to dominate the total traffic to customers, marketers appear to be enjoying a much more diverse portfolio of social lead sources from Twitter, LinkedIn, as well as StumbleUpon, Tumblr, and Reddit.
Although still a very small portion of traffic comes from Pinterest (at least for Eloqua's customers, see this chart which shows a different story for the web in general), it is far and away growing fastest – 52x what it was last year.
In a world where change is the only constant, marketers will be experimenting more than ever, and will need tools that allow them to do that.

Original Post – http://bit.ly/Jht8MZ
See on blog.eloqua.com