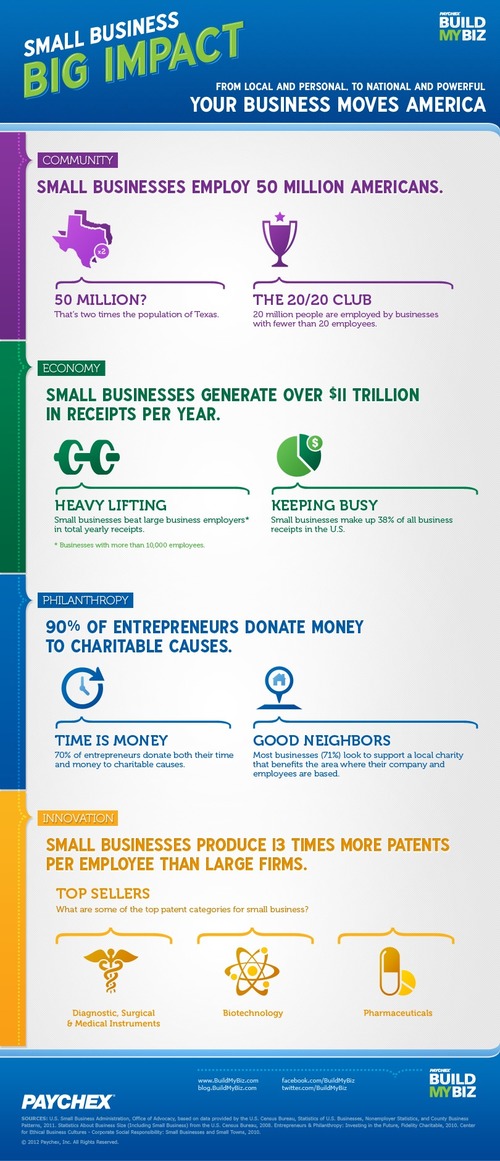 On the eve of National Small Business Week, Paychex, a provider of payroll and human resources services to small- and medium-size businesses, compiled information to show just what small businesses mean to the economy.
The results found that small businesses have anything but a small impact on job growth and economic development.
An estimated 50 million people are employed by small businesses, a large portion of which (20 million) work at companies with 20 employees or less.
Those 50 million workers employed by small businesses equals out to slightly more than one-quarter of the working population of the United States.
Beyond employing more than a quarter of the population, small businesses also are responsible for generating $11 billion in receipts a year, a number that is higher than the yearly receipts generated by businesses with more than 10,000 employees.
Overall, the $11 billion generated by small businesses represents nearly 40% of all business receipts in the U.S.
"Small businesses do more than provide services and products; they strengthen and shape our communities, our economy, philanthropic efforts and innovation," said Martin Mucci, president and CEO of Paychex.

Download / Embed: http://bit.ly/KVqJqx
See on blog.buildmybiz.com