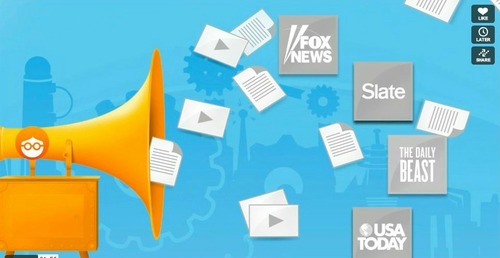 The 'if you build it, they will come' approach to online content creation is no longer enough when it comes to developing a truly engaged audience online [Simon Edelstyn – http://bit.ly/LolvDj , European managing director at Outbrain] and content amplification has a key role to play.
For marketers, as the online environment continues to grow, it is no longer a case of simply creating content and hoping for the best. It has become increasingly important to ensure the right audience is discovering this content.
How to amplify the value of this content and get it seen by the right audience, amidst a sea of irrelevant content: http://bit.ly/LokPOl
1. Produce more engaging content
Develop educational or entertaining content in several different formats
2. Earned media is content
3. Amplify your efforts
In the B2B arena, content discovery is emerging as a new way to help the right people find the right content for them, while allowing marketers to amplify and build relevant communities around these assets.
Because of the nature of the majority of B2B content, its audience is targeted, and content discovery can help reach targeted relevant and interested users.
Content marketing and engagement doesn't necessarily translate directly into immediate ROI or sales conversions, online or offline.
However, it is a way to make customers aware of your existence, demonstrate credibility and build brand loyalty via deeper engagement.
Content marketing is not a sprint, it's a marathon – you need to be patient before your audience will be ready to move to consideration or purchase.
With so much content already out there, you need to make yours relevant and engaging, to help the right eyes reach it.
See on www.b2bmarketing.net