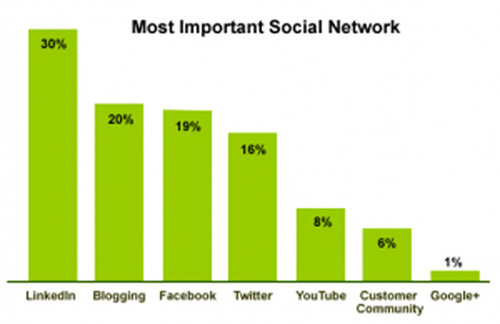 Social Media is Now Mainstream for B2B Marketers, and a new Study from BtoB looks at the demand for LinkedIn, Facebook, and Twitter — and how Marketers are using each platform effectively.
The Study – http://bit.ly/JHXg0U – also looks at which traditional marketing channels are receiving smaller allocations as money is increasingly directed toward social efforts.
In 2012, nearly one-third (32%) of marketers are "very" or "fully" engaged in social marketing, up significantly from 21% back in 2011.
By 2013, 97% of marketers will be involved with social media to some degree, while the majority (53%) will be "intensely engaged" in social media marketing.
What are the most-used channels for B2B marketers using social media? http://bit.ly/JHXzc3
LinkedIn (83%); Twitter (80%); Facebook (79%);
YouTube (60%); Blogging (50%)
The story changed when respondents were asked which channels were most important for their social media efforts:
LinkedIn remained in the lead with 30%, but Blogging came in second (20%) followed closely by Facebook (19%) and Twitter (16%).
How much of traditional media spending is being allocated toward social media marketing?
Nearly three-quarters of Marketers are moving "as much as 10%" of their traditional media budget allocations toward social, according to BtoB. And a majority of Marketers (56%) are moving marketing dollars from paid search into social marketing.
The main obstacles to social media marketing included:
#Lack of resources (70%)
#Poorly defined success metrics (57%)
#"Lack of knowledge about social media" (44%)
management resistance (22%)
Original Post: http://bit.ly/JHXzc3
See on therealtimereport.com