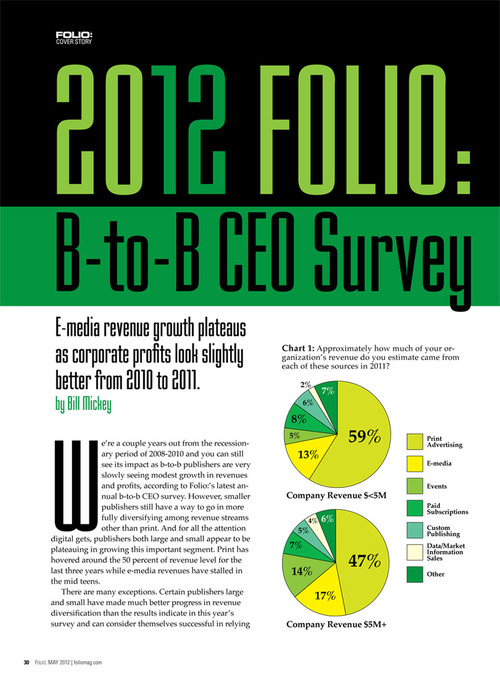 eMedia revenue growth plateaus as corporate profits improve slightly.
30% of large publishers are also planning online startups, but only 13% plan an ancillary service launch, and 10% indicate a new magazine is in the works.
eMedia revenues are considered the fastest-growing segment among both small and large publishers. 51% of smaller publishers indicate eMedia is the fastest growing part of their organization while 73% of larger publishers say the same.
Of the sources that publishers are expecting increases from this year, 65% of small publishers expect it from e-media, 57% from new print advertisers and 47% from existing print advertisers.
A significant percentage of large publishers (86%) also expect increases from e-media, but they're much more bullish on events, with 56% expecting growth from that segment. Only 24% of smaller publishers are anticipating growth from events.

Top priorities for both small and large publishers in 2012 are focused on boosting revenue and profits, close behind is expanding their Web businesses.
Click here for Full PDF Of this Survey with Charts
See on www.foliomag.com