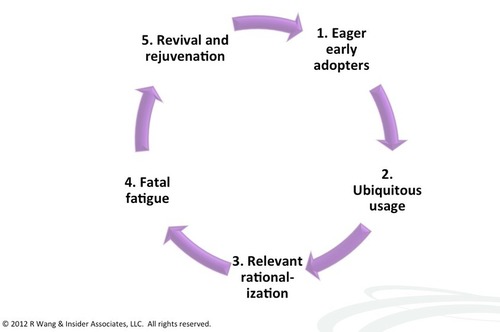 Social Media Moves From Ubiquitous Usage To Relevant Rationalization
Have we hit a social media plateau?
Most early adopters seem to be overwhelmed with their personal (Facebook, Google+), corporate (Yammer, Jive, Chatter, SharePoint), and professional (LinkedIn) social networks.
They feel that adding any additional network for anything social is quite overwhelming.
Recent data on number of users at the Big 4 of social media show that we are in the middle of ubiquitous usage: http://onforb.es/Kiy8zJ
**Facebook (901M users as of Feb 2012)
**Twitter (500M users as of March 2012)
**LinkedIn (161M users as of March 2012)
**Google+ (100M users as of Feb 2012)
As early adopters start rationalizing their networks, some are even pulling out. From loss of interest in Google+, Empire Avenue, to even FaceBook, people have started to selectively choose networks to combat overload and social media fatigue.
These trends parallel those for mail, phone, email, web and other disruptive technologies. Going forward, users will move towards desensitization when the advertisers and companies abuse the channel by spamming users with an unwanted deluge of irrelevant offers.
The Bottom Line: Engage Users To Combat Fatal Fatigue In The Disruptive Tech Adoption Life Cycle
Success will require organizations to engage their customers and employees
Original Article: http://onforb.es/Kiy8zJ
See on www.forbes.com