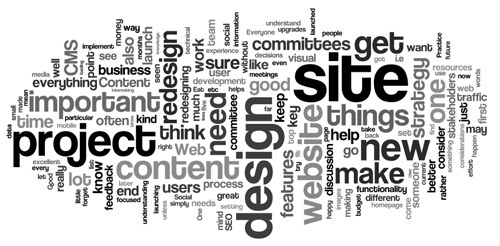 Managing a website relaunch or launch is not straight forward; there are so many issues to consider from marketing strategy, customer experience to content strategy to the technical challenges of selecting and integrating different technology platforms and web services.
Here are 20 key points: http://bit.ly/JIymfF
1. Define Vision, strategy, goals
2. Consider audience and users' needs
3. Schedule planning, phasing, piloting and testing
By figuring out what's most important to launch first, you can have more focused results and then you are setting yourself up for the ongoing quality of your site.
Think also about the maintenance and sustainability of the site in all relevant ways – financial resources, staffing, design, technical upgrades, etc.
4. Plan your content strategy
Planning content is key
Too often too much time and attention is spent on the application rather than the content and user experience. The best CMS cannot compensate for poor visual design or lacklustre content
5. Review changes in landscape and technology
Anything from business model, regulations and laws, your knowledge base, to new opportunities and innovation
6. Get the budget and resourcing estimates right
7. Put in place measurement, analytics, KPIs
Working out how you will measure performance and success on an ongoing basis is essential
8. Define a Leadership / project governance structure
Appoint a single person to implement the online strategy and give them the authority to make decisions.
9. Get stakeholder engagement and "buy in"
Define the engagement process
10. Establish which platforms you're serving
Consider the platforms on which the site will be used: does it need to work adaptively for mobile devices now and in the future. Will it need regular upgrades after launch to allow for new features and functionality? If so, how will these upgrades be made (and paid for)? How will it deal with the inexorable march of browser specs?"
11. How does the website fit into the wider online and offline world?
12. Enable sharing
Make sure it's really easy to share, like, tweet etc. every page of your website
13. Branding and visual design
Clearly this is a major consideration – and often the most apparent change externally
Don't under or overvalue visual design, just because it's what everybody talks about."
14. Plan for SEO from the beginning
SEO considerations need to be an integral part of the site design process."
15. Get the requirements right for the content management systems
16. Plan launch marketing and messaging
"If you build it they will come. No they won't."
Social marketing/strategy is important but don't overlook the need for:
a) Good old fashioned marketing. b) Your 'attitude'. c) Your approach – take a look at your message. If it takes you half a page to describe what you want your reader to know – then you need to go back and redo it.
17. Make sure your site performance is sufficient
Google will penalise you for slow-loading pages (we have the data to prove it) – but this opens up a whole can of worms – because to accomplish speed you sometimes need to compromise on the dynamic and the beautiful.
18. Get the technology delivery capacity right
Spending too much is a waste of money. Spending too little will literally cost you money.
19. Don't start with the homepage
Design the homepage at the end of the process – or as near as you can, because designing a homepage before you have confirmed the information architecture, defined the key needs of the users, etc, will mean numerous changes
20. Stay fit and well
a) Sleep b) Eat c) Exercise d) Meditate e) Practice – Being humble!
It's going to be great
Original Post: http://bit.ly/JIymfF

See on www.smartinsights.com