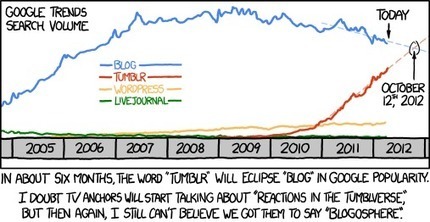 Tumblr is on the cusp of doing something quite incredible. Google searches mentioning the service are poised to surpass searches for 'blog' by the end of the year, showing that the New York-based company has truly established itself as the Web's most popular blogging platform.
Comparing the two terms, 'blog' is currently ahead — as you can see here – http://bit.ly/J3x5EH -but XKCD blogger Randall Munroe [via TPM – http://bit.ly/HPDkZL ] believes that 'Tumblr' will see more Google searches by October 12 this year.
Google search numbers are not an exact statistic, but the content of searches does indicate the popularity and interest in services, people and topics online. While it's true to say that a great many blog readers go straight to sites via Twitter, RSS feeds, emails and other links, Tumblr's continued rise is massively significant.
If you are a business or individual with a blog that you want to be found online, then running it, or another, on Tumblr is likely to bring you more traffic.
The business world has been largely unsure of how to cater for Tumblr — which is shareable and fast-paced as Twitter but populated with more inspiring text and rich images — and this is likely to be a wake-up call for them.