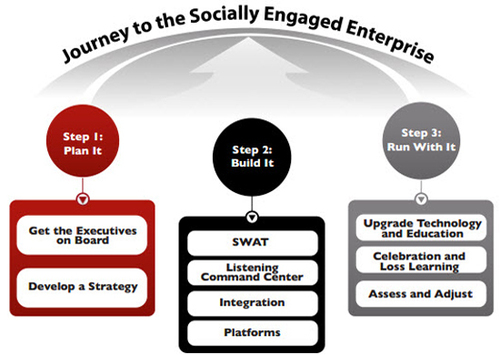 Social media is democratizing marketing and is enabling the aspirational brands to challenge major brands for global mind and market share.
The CEO and the Socially Engaged Enterprise
To be a socially engaged business is no longer an option, it is essential, just like the website was initially perceived in the 1990′s.

A study by PulsePoint Group in conjunction with "The Economist" Intelligence Unit titled "The Economics of the Socially Engaged Enterprise" –
http://bit.ly/Hbt5gd – has revealed that the socially engaged companies have a 400% greater impact.
The study also outlined the steps that are essential to becoming a socially engaged business.

Step One: Plan It
There are two phases to this step

1. Get Executives Sold and Comitted
2. Develop a Strategy
Developing a strategy that is clear on its goals and audience is the next phase. It includes weaving the strategy into the existing marketing plans so that they are synergistic and relevant.
Step Two: Build It
Essentially there are four phases to step two

1. Select your SWAT Team
2. Create a Social Media Command and Listening Center
3. Integrate Social Engagement into every Department
4. Create a Publishing Plan and Schedule for your Content
Step Three: Drive It
This is going to take time and commit to spend the next 12 months making sure that the team is acting on the strategy plan. This will involve three phases
1. Keep the Technology Up to Date
2. Learn from Your Mistakes and Celebrate your Wins
3. Assess Regularly

Read entire post – http://bit.ly/HbtIq4
By Jeff Bullas – http://bit.ly/AsKklN