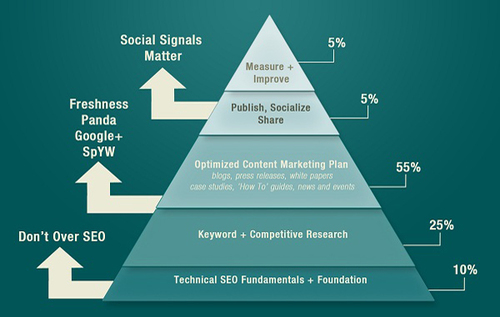 This approach to being found organically will help answer two critical questions: how do you know if you're maximizing your SEO investment given the changes Google has introduced and how you can sell your services and prove value to your clients?
A New Theory: The Hierarchy of Web Presence Optimization
The idea of building out a hierarchy of web presence optimization (WPO) comes from the belief that basic fundamentals are required before organic search success can be achieved.
There are five different tiers in The Hierarchy of Web Presence Optimization: http://bit.ly/I5UUJ8
1. Technical SEO Fundamentals & Foundation
If you're serious about being found in Google and optimizing your entire web presence. This accounts for approximately 10% of the SEO efforts often consisting of one-time tasks.
2. Keyword and Competitive Research

At the core of every organic search strategy are keywords. This is an on-going process that will expand and evolve as you venture deeper into your organic optimization strategy.
Approximately 25% of your SEO efforts should be focused on continually understanding the keyword phrases that drive targeted traffic and conversions.
3. Optimized Content Marketing Plan
Optimized content marketing is at the intersection of organic search optimization, social media, all the recent Google algorithm changes, and content marketing. Planning and creating your optimized content accounts for the majority of your SEO efforts – approximately 55%.
4. Publish, Socialize & Share Content
Distributing your content effectively and frequently should occupy about 5% of your SEO effort.
5. Measure & Improve
You must measure, benchmark, tweak and repeat. This is the final and ultimate tier – the remaining 5% of your SEO effort.
See on searchenginewatch.com