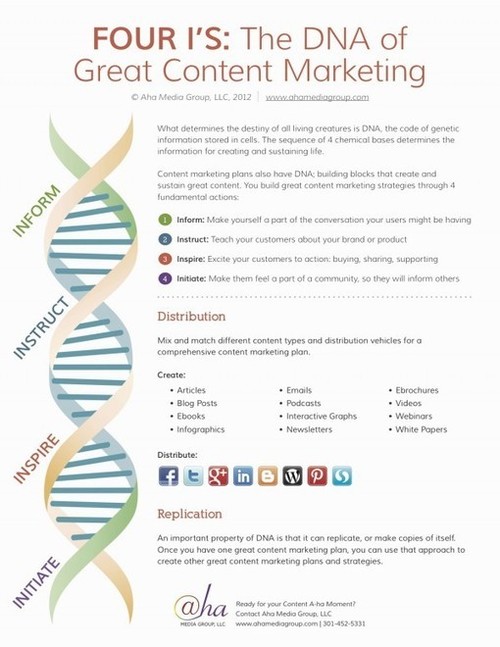 Just as successful professionals and companies share similar traits, so do great content marketing campaigns. They all have four key elements that make up the code for building great content.
Ahava Leibtag – http://bit.ly/IB8MN0 – calls them "The Four I's"
1. Inform
Through daily emails, engaging eBooks, and valuable white papers, its content creators churn and burn on important digital and marketing issues of the day.
2. Instruct
Explain your product and coach / support your customer
3. Inspire
Creating an emotional connection with customers
4. Initiate
It's important to make your customers feel part of a community.
Distribution is critical to a great content marketing campaign across the right channels ensuring that you have identified the answers to these fundamental and imperative questions:
A>Branding/messaging:
Who are you, and what do you represent and offer? What do you need to say? How can you provide value to your customers?
B>User profiles or personas: http://bit.ly/IB8wO1
Who are you trying to reach? What do they care about? Where and across what channels do they consume content?
C>Define the campaign:
What types of content are best for these users?
How will you distribute it so there is a cohesive user experience across all components of the campaign?
Ultimately, make sure you inform, instruct, inspire, and initiate your customers and you'll have chain after chain of great content marketing campaigns.