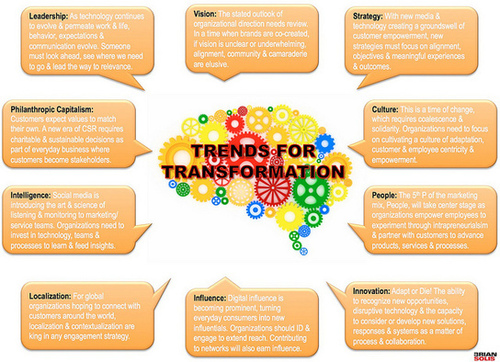 "Digital Darwinism is a phenomenon when technology and society evolve faster than the ability to adapt. And, it threatens rigid and traditional practices everywhere."
To survive Digital Darwinism takes understanding of course, but more importantly, it takes leadership…it takes courage.
The future of business and customer and employee engagement is built upon a foundation of vision, trust, significance, and relationships. Set on this foundation are 10 pillars for which transformation is braced.
As Leon C. Megginson once said in paraphrasing Charles Darwin's Origin of the Species, "It is not the strongest of the species that survives, nor the most intelligent that survives. It is the one that is most adaptable to change."
10 Tenets to Survive Digital Darwinism
*Vision
*Strategy
*Culture
*People
*Innovation
*Influence
*Localization
*Intelligence
*Philanthropic Capitalism
*An ode to leadership
Once you listen, not monitor, but truly listen to customer activity and observe online behavior, you cannot help but feel both empathy and harmony. And naturally, the response it begets is only human.
By Brian Solis – http://bit.ly/w1AGy8 – and thank you to Alessio – http://bit.ly/HcPHjB – for directing me to this post – @liveconnection – http://bit.ly/HcPRaS