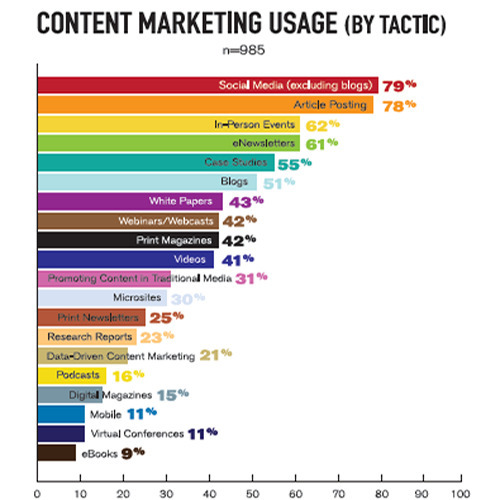 B2B Content Marketing is the best way to create top-of-the-funnel excitement that translates to revenue down the road.
Businesses that succeed in developing timely, relevant, non-promotional content reach potential buyers both directly and through the most persuasive channel of all: word of mouth. Exceptional content, like remarkable products, induces conversations and incites sharing.
Tips and best practice advice to improve the return on your content marketing.
Content marketing is the art of creating, curating and distributing valuable content, combined with the science of measuring its impact on awareness, lead generation and customer acquisition.
Simply put, it's business-relevant communications minus the selling. It's the antidote to "interruption marketing." Instead of pitching products or services, a content marketer equips buyers with the knowledge to make better-informed decisions.
Central to content marketing is the belief that if businesses deliver consistent, helpful information to buyers at the right time, then prospects will ultimately reward the company with their purchase and loyalty.
This Whitepaper – http://bit.ly/JnyPYd – is a bitesized look at everything you need to know to implement a content marketing strategy, showing you why businesses need it, what different types of content marketing there are, best practice tips to bear in mind and how to measure the results from your content.
See on www.eloqua.com