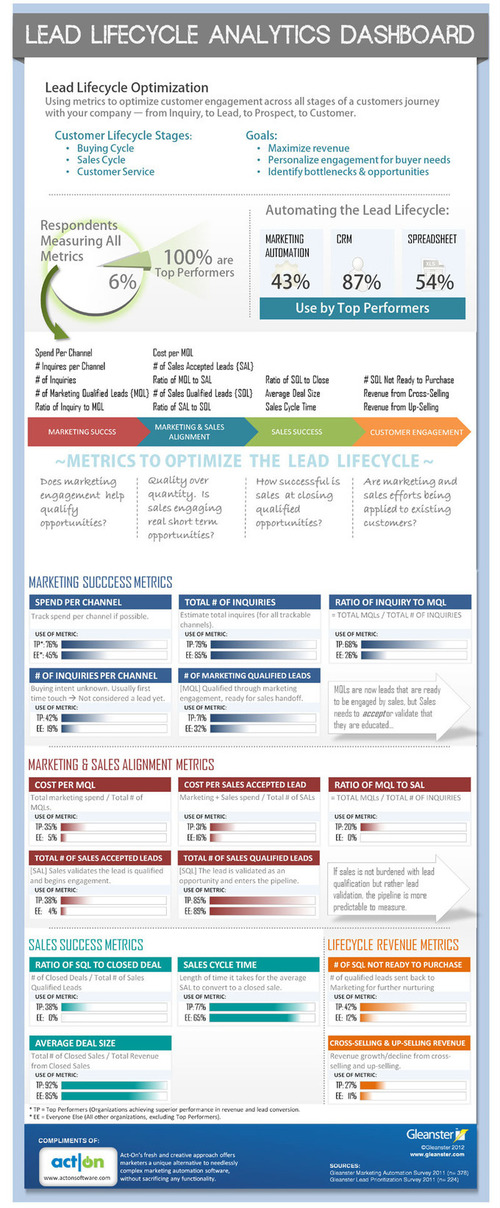 91% of companies today measure marketing performance using only a single measurement: revenue.
These single-metric minded organizations are being left in the dust by Top Performers who systematically apply a number of metrics to optimize the entire lead lifecycle, including: total number of inquiries, number of marketing- qualified leads, and cost per sales-accepted lead.
Lead lifecycle analytics are crucial; successful lead generation and lead nurturing rely on an organization's ability to address the multiple different stages of the lead lifecycle.
This Lead Lifecycle Analtyics Dashboard Infographic – http://bit.ly/IF0r7X – provides a visual overview of 15 key metrics needed to optimize the lead lifecycle, as well as how Top Performers are measuring their overall marketing performance using the following:

**marketing success metrics
**marketing and sales alignment metrics
**sales success metrics
**lifecycle revenue metrics
See on actonsoftware.com