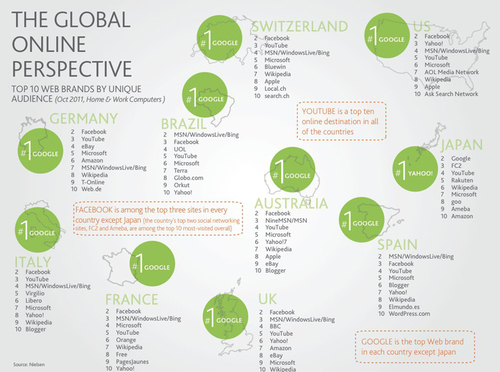 Social media is a global phenomenon indeed.
Certainly Facebook, Twitter, Google+, in their own way, each make the world a much smaller place.
The distance between any two people is shrinking as the number of network connections continues to proliferate.
I'm sure you've heard at one point or another, that the distance between two people in an offline world is six degrees.
In a recent Facebook Study – http://on.fb.me/IwDUgu – the average degree of separation between two people in the network is only 4.74. When focused on one country specifically, such as the U.S., Sweden, or Italy, among others, the number of hops between two people further shrinks to 3.74.
But social networking is only part of the story as platforms count for everything. Mobile devices are also fueling social addiction.
For global businesses considering any social and web strategies to improve customer experiences and engagement, going global starts within going local.
This is not about taking one campaign and broadcasting it around the world from central headquarters—even if it's translated.
This is about localization and true engagement with those who define social networking at the local level. In social networks people do not create an idle global or country-specific "audience," nor do they anxiously anticipate the next big marketing campaign.
Brian Solis – http://bit.ly/w1AGy8 – suggests
"The Top 9 Reasons to Go Local with Your Global Social and Web Strategies:" http://bit.ly/IwFEGD

1. Social Media is the new "normal," and it is literally making the world a much smaller place
2. Employing a Global Strategy establishes a unified brand
3. Investing in a local presence builds a bridge between the brand and customers
4. Localizing and contextualizing content increases relevance, engagement, and resonance
5. Investing in the 5's of community completes the last mile to improve customer experiences, increase commerce and promote advocacy
6. Global languages and cultures are extending your opportunity for commerce and community, but localization is the key to engagement
7. Prioritize each opportunity based on local markets that track toward business objectives and language opportunities
8. Think channel experiences and design local experiences to thrive on each platform (mobile, Facebook, web, etc.)
9. Finally, because your local customers and country managers want it that way