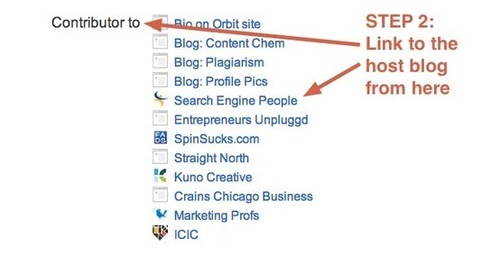 Ever wonder why some people's faces are showing up in search results? How do they do that?
They do it by linking and then adding the Google Authorship markup to one of the links.
This is called a "rich snippet."
Here are the three steps to follow – http://bit.ly/Ioh4X3 – to get Google Authorship markup working, along with tips for troubleshooting.
Step One: Verify your email address on Google+
Make sure you're using a email address with the same domain as the domain of your blog.
Step Two: Link from your Google+ profile to your content
*If you have a bio page on your blog, link to this bio
*If you don't have a bio page, link directly to the post itself
Step Three: Link from your content to your Google+ profile
From the byline or author box at the bottom of your post, link to your Google+ profile, adding "rel=author" in the link
Tip: If you use WordPress, there are plugins, such as Author Box Reloaded – http://bit.ly/Ioij8I, that will add the markup for you. They will also add your image and icons to all the social networks
See on blog.kissmetrics.com