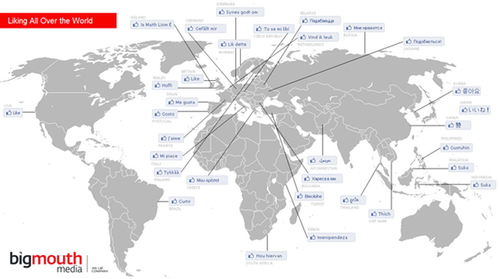 Discover how Facebook's 'Like' translates across the world with BigMouthMedia' s Inforgaphic and table of translations with associated country codes.
Sati, Me Gusta, Suka, Liker, Vind ik Leuk, Gosto – sound familiar?
Facebook's localisation programme, aimed at localising the social network in every countries native tongue is a key milestone in its global success.
Localisation is a massive aspect of digital marketing, yet too often localisation is taken for granted.
And localisation means content, currency, delivery process, contact details, everything.
Check out the "Table of Likes" with the referenced data sources for translations here: http://bit.ly/I9fuGQ
See on blog.bigmouthmedia.com