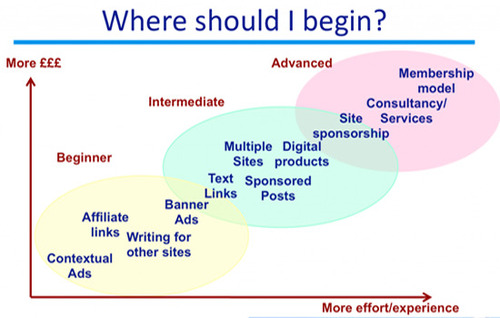 If you're looking to make money from your blog, here are three ways to use old content to monetize your blog and create regular passive income.
From having advertisements on your blog to selling affiliate links (or your own product), it's clear that bloggers want to be able to make money from blogging – it's just a matter of how (and without upsetting your readers).
Three ways to monetize your blog with older content: http://bit.ly/JoP4lf
1. Create a Premium Ebook
Look back at your content, and see if there's an ongoing theme that can be fine-tuned and made available as a premium publication.
2. Create an Educational Video Download
Check your analytics, and see which posts had the most traction. That suggests that there's an audience for that content, and while your written word may have been popular, a video overview will be even more so.
3. Host a Premium Webinar
If the written word becomes valuable, you can imagine how valuable a live webinar, with the ability to ask questions on the fly and see something happen in real-time, can be.
Ulimately, If You Can Create It, You Can Sell It
Quality never has a price limit on it.
Find the content you feel offers the most value and opportunity to turn into a premium offering.
The good news is, the audience is waiting – you just need to provide.
See on dannybrown.me