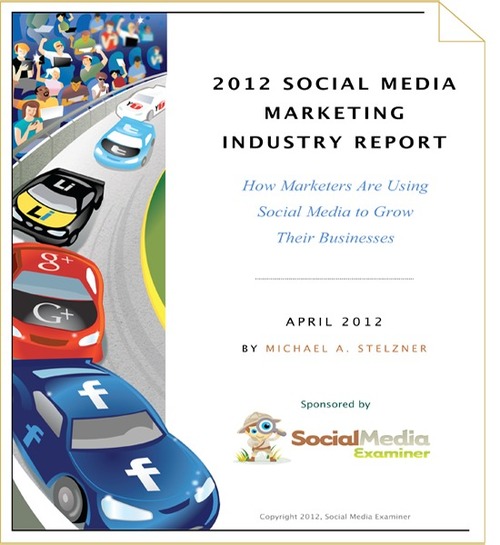 Are you wondering how your peers are using social media?
Wondering if you should focus on Google+ or Pinterest?
Michael Stelzner – http://bit.ly/HhL7jD – of Social Media Examiner – http://bit.ly/HhLhY6 – has just released the 2012 Social Media Marketing Report.
http://bit.ly/HhLYAS [pdf]
In this fourth annual social media study, more than 3800 marketers reveal where they focus their social media activities, how much time they invest and what the rewards are.
In this report, you'll discover:
*What social networks marketers will focus on in the future
*The top 10 social media questions marketers want answered
*How much time marketers invest with social media activities
*The top benefits of social media marketing and how time invested affects results
*The most used social media tools and services
Activities social media marketers are outsourcing

And much more!
If you're responsible for marketing your business, you'll want to closely analyze the pages of this free 42-page report and use it to persuade others.

Remember, the nature of social media is to "share," so if you like the report, please let your peers know about it.