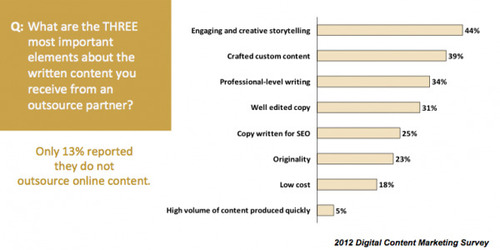 2012 Digital Content Marketing Survey
Brandpoint and the Content Marketing Institute recently queried 389 marketing decision-makers and found some interesting content marketing trends, including a shift toward outsourcing in content creation.
What's working?
What are the most important attributes of content?
Here are some of the key takeaways from the survey: http://bit.ly/IQpPeQ
~Marketers embrace a variety of online tools, but still perceive quality as key to the success of their online efforts.
~They prefer the written word and consider it more effective than images. Social content on such networks as Facebook and Twitter, blogging, press releases and online articles all rank ahead of video as the forms of content most frequently used by marketers.
~The majority say it's most important that their online content is written for people, rather than search engines.
~What's more, the majority of content marketers are willing to pay more for the added value of well-crafted, customized, professionally written copy.