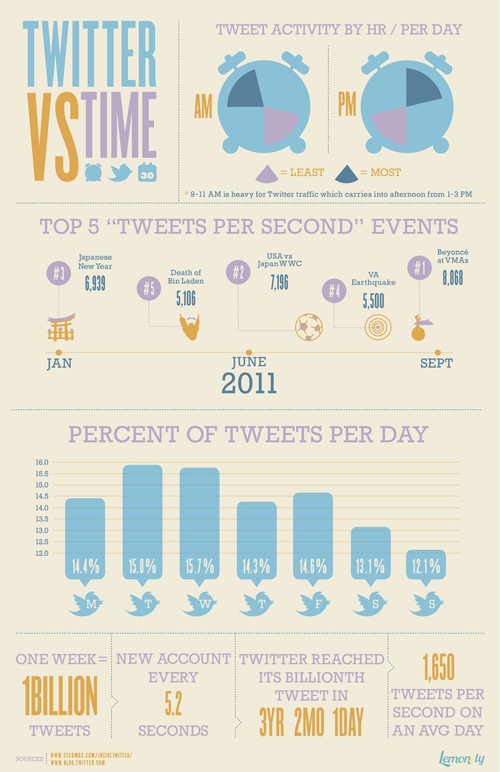 We want people to notice our tweets—to read and retweet them—whether they come from a personal Twitter account or that of a brand.
It's not a one-size-fits-all answer. You need the knowhow and the tools—
The subject and wording of a tweet is often (though not always) less important than its timing.
Time of day
According to data compiled by the marketing firm Lemon.ly – http://bit.ly/H2WvPt , the most traffic on Twitter occurs from 9 to 11 a.m. ET and 1 to 3 p.m. ET. Research from HubSpot's Dan Zarrella – http://bit.ly/H2Y4wV [pdf] found that the best time to tweet is 5 p.m. ET.
The takeaway: Spread your tweets out throughout the day with an emphasis on late afternoon.
KISSMetrics pulled data compiled by Zarrella to show the breakdown of tweets in the United States:

• 48% of tweets are from the East Coast;
• 33% of tweets are from the Central time zone;
• 14% are from the West Coast.
• Nearly 80% of the U.S. population is located in the Central and Eastern Time zones.

The takeaway: Think East Coast time.
Day of the week
According to Zarrella's report "How to Get More Clicks on Twitter" – http://bit.ly/H2ZasB – your Twitter links will get the most attention from your followers toward the end of the week and on weekends.
The takeaway: Don't forget Friday, Saturday, and Sunday.
Tools

Tailoring your tweeting schedule is essential to reaching the greatest number of followers.
Here are 13 tools to help you: http://bit.ly/H2YJhQ
[An asterisk next to the description indicates it's not free.]
By Matthew Royse – http://bit.ly/H2Z0Bh