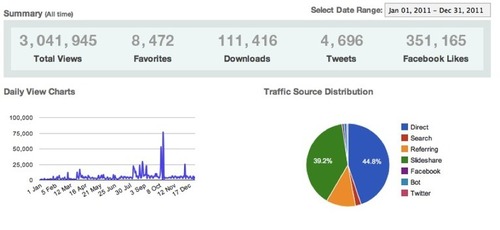 The September 2011 introduction of Facebook's Timeline proved prophetic. "It's a lot more visual"
Visual, as it turns out, is also the direction in which the world of online marketing has headed.
The rise of visual storytelling as a means of spreading a marketing message couldn't possibly have evaded you. A number of image-based platforms out there, including Pinterest, Instagram, and SlideShare, have already made a strong statement about how visual content can impact business results.
What's so irresistible about images?
Let's take a look at the platforms that brought about this rise of visual storytelling in marketing
Pinterest
Images on the web can take control of your time in an instant and lead you down a path that you didn't intend on taking.
How to Use Pinterest for Business – http://bit.ly/GPXIcj – [pdf] reveals that the network has been sending more traffic to HubSpot's blog than Google+ has.
Instagram

This photo sharing application Instagram has accumulated 15 million users and is quickly outgrowing Foursquare.
Slideshare
Just like with Pinterest and Instagram, SlideShare can yield positive results for your organization if the presentations you are sharing convey clear value in a well-designed form.

What should you do about the rise of visual content in marketing?
1. Get on board
2. Include calls to action
3. Measure impact
This guest post is by Magdalena Georgieva – http://bit.ly/GPWMVa – of Hubspot