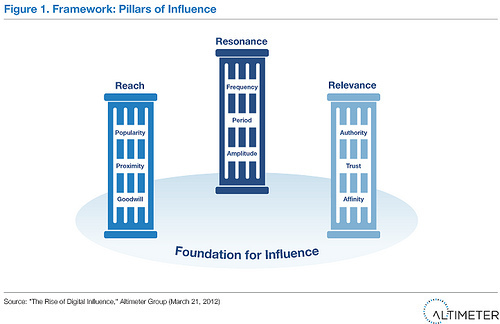 We live in a time when social networks such as Facebook, Twitter, Google+, et al., not only connect us, they become part of our digital lifestyle.
But it's not just about how these networks help us connect and communicate with others. Whether we know it or not, our social activity now contributes to our stature within each network.
New services such as Klout, PeerIndex among many others not only measure who you know, what you say, and what you do, they attempt to score or rank your ability to influence those to whom you're connected.
As a result, social network users are now starting to rethink how they connect and communicate to improve their stature within each network. And at the same time, brands are taking notice as these services also help organizations identify individuals who are both connected and relevant to help expand reach into new media and markets.
Brands extend their reach into new networks and consumers earn recognition and reward for their online status. These new paradigms also present a number of unforeseen challenges as businesses and digital consumers alike come to grips with what influence is and isn't.
The Rise of Digital Influence – http://bit.ly/GKZZrJ [PDF] – takes a deep dive into digital influence. It explores the emerging landscape for digital influence to provide businesses with a lens into how it's earned and spent in social networks.
The Report lays out an Influence Framework and an Influence Action Plan to identify connected consumers and to define and measure digital influence initiatives using an included step-by-step process. Through examples and a review of the digital influence tools available, businesses will posses a stronger grasp of how to develop effective engagement strategies and supporting processes
By Brian Solis – http://bit.ly/GL0phG