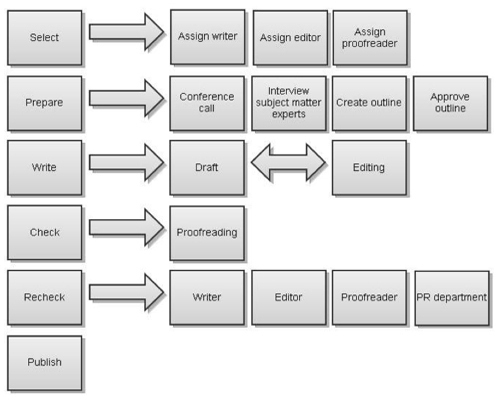 Effective content marketing holds people's attention. It gives you a distinctive brand, loyal fans and increased sales.
You don't need a big budget to succeed, which is why good content marketing is the single best way to beat bigger competitors online.
Prepare
Before creating content, you need to prepare. Think about your tone and style, where to find the best writers and how to organize your workflow.
Tone and Style
To get the right tone, think of the person who best represents your brand. The person could be fictional or real, and they may or may not work for you.
You'll also need a style guide, so that your authors write consistently.
Check out The Yahoo! Style Guide – http://bit.ly/An7jeb – for ideas
Picking Content Creators
Don't pick the wrong people to create your content. It's hard for a non-technical person to pick the best Web developer, and it's the same with content marketing.
Workflow
Think about the best process for each type of content. One person might be enough for a tweet, whereas four to six people might be ideal for an eBook.
Imagine you've got a well-staffed company that is putting together a B2B white paper. You could organize your workflow like this graphic which is an example of how to organize your workflow in a well-staffed company.
Persuade
Your content should be persuasive. Pay close attention to how you speak and what you say.
Use Simple Language
"Short words are best and the old words when short are best of all," said Winston Churchill. So, don't talk about "taking a holistic view of a company's marketing strategy to deliver strategic insights, precise analysis and out-of-the-box thinking."

Have Opinions
Interesting people have opinions, and interesting brands are the same.
Think politically: consider the popularity of your views and whether they will attract media coverage. Ideally, your opinions should be bold and popular.
Sell The Benefits
In the same way that you sell your products and services, tell your audience the benefits of your content. This technique is essential if your audience doesn't know what it wants.
By using benefit-focused copy, you immediately tell the reader what's in it for them.
Teach
Think about what your audience wants. People want to hear answers and to learn something new, so give them what they want.
Give Answers
Content marketing needs to offer practical advice that people can use.

Say or Do Something New
Most content is boring and unoriginal, which is good for you. It makes it easier to beat your competitors.
Capitivate
Give your content more personality. Captivate your audience with stories and characters that will draw them in and keep them coming back.
Tell a Story
Telling a story is a great way to connect with readers. Storytelling is fundamental to human interaction, and it can make your content more compelling and your brand more engaging.
Always mix interesting stories with useful information; fail to do this and your audience will feel you're wasting their time.
Use Real People
People prefer to get involved with a company with which they feel a personal connection.
Produce something informative that people will want to read. Give your brand a personality and your business will benefit across the board, from recruitment to sales.

Original Post – http://bit.ly/ziJvoq
By Chris Anderson – http://bit.ly/xGNUYm