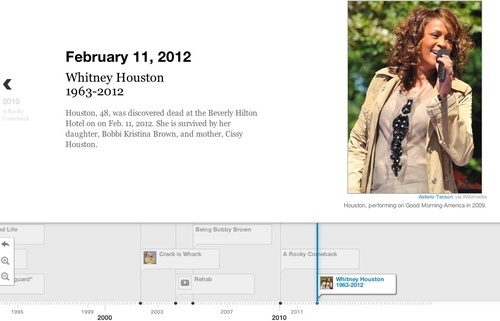 New online tool Timeline – http://bit.ly/GVSTeJ -generates timelines on the web by curating content from different media like Twitter, YouTube and Flickr.
"The tools that already exist on the web are almost all either hard on the eyes or hard to use," "Timeline is an open-source, JavaScript and HTML/HTML 5 based tool that creates elegant timelines." said creator Zach Wise.
With the timeline, a specific date, its description and any media (if any) associated with it fills the upper two-thirds of the browser.
Meanwhile, the bottom third of the browser shows how that item fits in categorically within the larger subject of the timeline. So audiences can concentrate on one specific date and navigate to another specific date, all while still being able to see how these moments fit in within the larger timespan.
While Timeline is similar to Storify in that it allows users to aggregate media on the web, it differs in its operation.
With Storify, users can drag and drop content into a post.
With Timeline, users can either embed the code onto their website using JSON, or — if they don't want to mess with any coding — they can fill in a ready-made Timeline template on Google Docs – http://bit.ly/Hbr5J5
Post by Sonia Paul – http://bit.ly/Hbt6EW