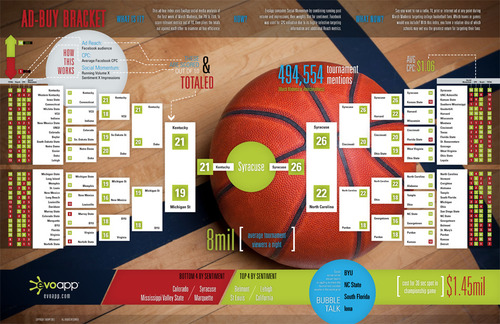 An Infographic from EvoApp – http://bit.ly/H2jDuG – analyzing the efficiency of march madness advertising rates using conversations in social media and other ad-targeting metrics.
What is the March Madness Ad-Buy Bracket?
The NCAA tournament is one of America's top sporting events, with just over 50 million unique viewers in 2011. It costs top dollar to run an advertisement during one of the games, especially in the later rounds and national championship ($1.5 million for a 30 second slot in the championship game).

EvoApp – http://bit.ly/H2j8AH – created the ad-buy bracket, a free resource for marketers, using social media data from the first week of March Madness (March 7 -15, 2012).
The rounds do not reflect matchups played over time, only a higher Ad-Buy Bracket score overall.
By Sergei Dolukhanov – http://bit.ly/H2jl6W