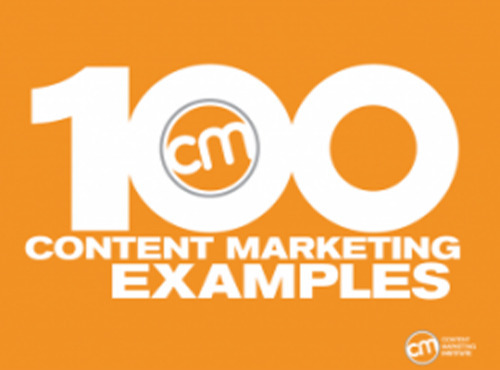 Looking for content marketing ideas?
Aren't we all?
In the moments you feel most overwhelmed with all the blogs, white papers, articles, social media posts, and more that exist online, sometimes it helps to take a step back and just browse your favorite sites for inspiration.
That's why the team here at the Content Marketing Institute recently pulled together a "100 Content Marketing Examples Guide."
http://bit.ly/GVTIpK [pdf]

CMI have compiled a great springboard from which to launch your efforts
In this guide, CMI shares how companies big and small from various locations and industries are producing creative and successful content marketing campaigns across multiple online, in person, and print channels.
Content examples from blogs, magazines, social media sites, live events, mobile apps, and more.
But, in the spirit of education, they also provide insights or additional resources to help you take the examples one step further and start incorporating similar ideas into your own programs.
By Anna Ritchie – http://bit.ly/GVUTFB