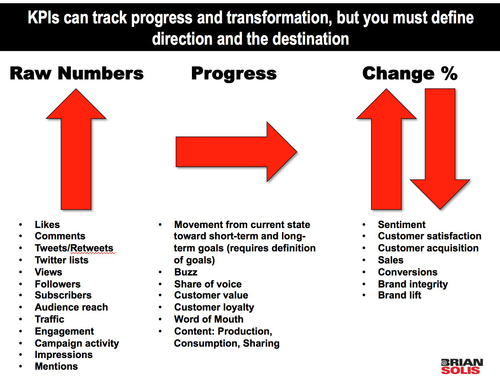 By Brian Solis – http://bit.ly/w1AGy8 @briansolis
Vincenzo Cosenza is a new media strategist living in Italy who has over the years, designed some of the industry's most comprehensive infographics on social media's global footprint. Recently, he asked if I would write the foreword for his new book, Social Media ROI – http://bit.ly/zECz5j . 
In social media, one of the most often asked questions is what's the ROI? Surprisingly, this question is voiced without an understanding of why it's asked in the first place. If the answer is "I don't know," it makes it a simple and grounded decision to either minimally invest in social media pilot programs or not invest in any new media efforts whatsoever. If the answer is, "this is the ROI we can expect from the following initiatives," you'll witness an incredible transformation of doubt or skepticism into curiosity and eagerness.
Indeed, new media represents a necessary change in direction to improve customer relationships and experiences, develop more significant products and services, and increase overall reach and market share. But remember, what you know and what decision makers need to know are on two different sides of the same coin. Both seek relevance and success for the organization. The difference is that only one side will attempt to unite everyone around a common vision for the future. And in this book, Vincenzo Cosenza will help you address one of the most important questions hindering the evolution of modern business, "what's the ROI?"
The reality is that no matter how creative the idea or however brilliant the strategy, it is the responsibility of decision makers to evaluate proposals based on merit, thoughtfulness and impact to the organization. People, time, capital, technology, are finite resources. It really comes down to opportunity costs. If the organization invests in new media initially, it either must "create" new resources and funds or it must borrow from elsewhere. For you to realize your vision and to bring your plan to life, you must tie everything to Business objectives and priorities or demonstrate how your strategy will push the organization forward.
Continue here: http://bit.ly/yOENrJ 
Via www.briansolis.com